In a competition that invited entries from pool builders in 6 states, Minks Outdoor Professionals received a GOLD Award in the RESIDENTIAL CONCRETE POOLS, $50,000+, 600SF+,  in the 2007 Annual Awards of Excellence competition conducted by the Association of Pool & Spa Professionals, Region 6.
The awards competition is open to members of the Association in Kentucky, Michigan, Western New York, Ohio, Western Pennsylvania and West Virginia.  Entries are solicited in October and November each year, and the winners are recognized in mid-February.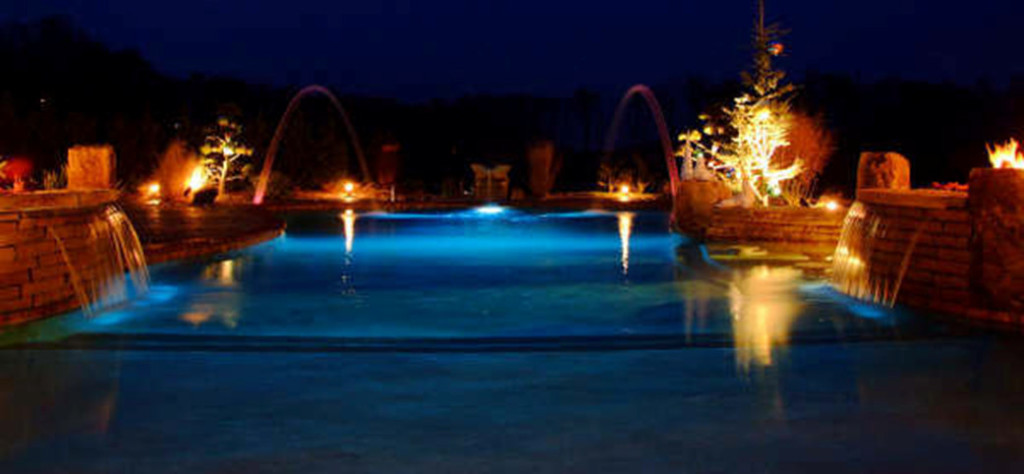 THIS FREEFORM SHOTCRETE SWIMMING POOL MEASURES 35' X 50', FEATURES A 35' BEACH ENTRY, HAS A SWIM UP BAR, 2 GAS FIREPITS WITH 48" WATERFALL BARS, 2 FYREFLY JETS WITH FIBER OPTIC LIGHTING, THE URN AT THE END SPILLS INTO THE DEEP END, THERE ARE 2 SAM LIGHTS GREAT FOR CHANGING THE MOOD.  THE INTERIOR IS FINISHED IN A MOHAVE BEIGE DIAMOND BRITE FINISH WITH A BRICK COPING.  THE LANDSCAPE, OUTDOOR LIGHTING, AND IRRIGATION SYSTEM WAS DESIGNED AND INSTALLED BY MINK'S.
The Association of Pool & Spa Professionals is an industry trade association with over 4,000 members, including swimming pool builders, pool service companies, retailers, distributors and manufacturers. The Association promulgates design and construction standards that are approved by the American National Standards Institute (ANSI). It also offers the industry extensive training programs leading to certification in swimming pool building and service. For information regarding the Association visit www.APSP.org.