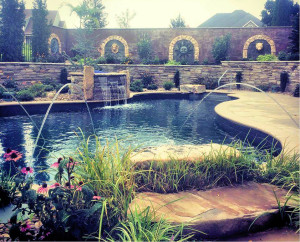 1. Can you describe the project Mink's completed?
Mink's designed, constructed, and placed into service my pool, surrounding patio and landscaping. This was a major project, which required a significant amount of civil work too.
2. Why did you choose Mink's?
I tend to be somewhat of a perfectionist and wanted a pool with the WOW factor. My research directed me toward Mink's as they specialize in top of the line pools.
3. Can you describe Mink's design process?
Mink's came to my home, evaluated the area where the pool was to be placed and then brought back designs for me to choose from. In addition, as the project moved forward, we consistently evaluated what might increase the WOW factor, and I was able to choose to add or not add to the project.
4. Are you happy with the project Mink's completed?
While my pool was being installed, I had a great deal of anxiety as I knew this was a one of a kind pool with many additional automated water features. Honestly, as it was being built, I could not appreciate how special it was going to be. Once completed, it became obvious that Mink's had created a small utopia in our back yard. Now that the landscaping has matured, most visitors mention the fact our back yard looks like a resort!! If you are wanting a high end home pool, and entertaining area with many water accessories Mink's must be on your list as a contractor to talk with.
5. How would you summarize your experience with Mink's as a whole?
I am extremely happy with my investment and would recommend a high end pool to everyone. Minks does quality work and I would recommend them. In addition, I have remained friends with the owners, and most of the workers. Most importantly, when I have a pool issue, which there have been very few because of the quality work, Minks is there for me, assisting in getting the issue resolved.
6. Would you recommend Mink's to others? If so, why?
Yes, if you are going to have a pool installed, Mink's should be considered. They do rate very high end pools and workmanship. One must realize that quality work does not come cheap. However, while I spent the money for quality workmanship on the front end (pool, heavy duty pool equipment, more concrete supporting, ect.) that has paid great dividends on the back end. We have had very few issues, and those issues we have had were very small relative to the project size and complexity. Lastly, I want to say that Mink's does top of the line work. If during the process, the owner does not feel it is up to his standards, he will have his men re-do the work. I saw this happen on more than one occasion on my project.
Tony Campbell, Richmond, Ky